Industrial  Painting Contractors in Canton, Ohio / Massillon, Ohio
Our industrial painting company, Induspray, services both Canton, Ohio and Massillon, Ohio. The painting contractors from Induspray are highly experienced, qualified, and able to bring in needed external resources if needed in order to complete any commercial/industrial painting project. We're capable of completing the largest projects, including both extensive exterior and interior painting jobs. Restoring and painting older buildings or warehouses that require the removal of heavy dirt, dust, grease, or other soiled materials are services which our company routinely provides. We are experts at spray painting Q decks and large corrugated metal ceilings.
Industrial painting and restoration projects:
manufacturing plants, factories
silos, storage tanks
industrial buildings
water & sewage treatment plants
secondary containment tanks
machinery, manufacturing equipment
smoke stacks, high-heat stacks
chemical processing plants, refineries
steel structures, bridges, cranes
Commercial painting projects:
warehouses, storage facilities
large commercial buildings
apartment/condominium buildings
arenas, entertainment venues
Painting and refinishing of all surfaces:
metal buildings, structural steel
ceilings, metal deck ceilings
epoxy floors, epoxy floor coatings
metal window frames, flashing
walls, concrete & cinder block walls
aluminum siding, metal/steel siding
roofs, metal/steel roofs
concrete floors, floor lines & markings
PHOTO GALLERY

Surface Preparation & Painting Techniques
Proper surface preparation is critical for a durable, long lasting paint job. If the underlying surface is not clean and intact, then it hinders the ability for the applied coatings/paint to adhere correctly to it. This would result in increased expenses later on to correct any problems. Induspray uses the proper techniques to prepare surfaces, so that it will be done right the first time. The techniques Induspray feels are the best to do surface preparation include: high pressure and hot water washing, steam cleaning, abrasive blasting, degreasing, cryogenic cleaning, shot blasting, and others that have reliably proven to be effective in the field.
Our crews of professional contracted painters are skilled in utilizing different methods of applying coatings such as airless spray painting, rolling, brushing, and more. Each situation is carefully analyzed in order to choose the optimal painting technique for the best outcome. Our professionals work in the Canton / Massillon, Ohio area in numerous scenarios, and often includes the coating or painting of exteriors that are high up, or interiors that are difficult to access. They also utilize various lifts, hoists, and aerial work platforms to access all areas within these facilities and to complete site jobs correctly and safely.
Industrial Paint & Coating Systems
High-performance paints and coatings are utilized by Induspray and there is a large number to select from, each calling for a unique type of application. Induspray's painters also choose the selected coatings based on cost and the length of time for which it will hold up on the surfaces in question. Products that we might use include: polyurethanes, latex coatings, alkyd paints, urethanes, epoxies, environmentally-friendly coatings, high-adhesion coatings, enamels, dryfog paints, and enhanced-traction coatings. Our pros pair up the type of paint or coating needed in order to make sure that the job is completed correctly and to budget. We also take into account the extreme climate present in Massillon and Canton, Ohio when completing exterior projects and choosing related materials.
VIDEO: INDUSTRIAL PAINTING DEMONSTRATION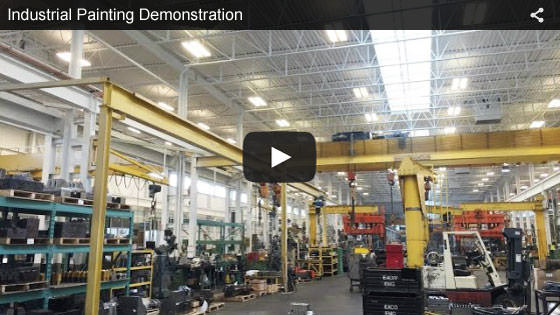 Massillon & Canton, OH  Industrial Painters / Commercial Painters
When searching for the best industrial paint contractors and commercial painters, Induspray is the top choice in contractors serving Canton, Ohio and Massillon, Ohio. In business since 1975, we've gained extensive experience over the years working on all kinds of industrial and commercial painting projects, and can handle pretty well anything. We focus on having highly skilled crew members, effective organized project management, and key partners and suppliers we have networked with, all to ensure that we can provide optimal results in a timely manner.
Client List for Canton / Massillon, Ohio
Positive testimonials from prior clients are our proof that we offer reasonable pricing and quality workmanship. Our company has completed a variety of painting projects within the Massillon, Canton and/or Ohio region including: industrial buildings, warehouses, storage tanks, factories, manufacturing buildings, silos and more. We have the references to prove it, and our client list of local and/or representative companies includes:
Rubbermaid
Timken
General Electric
Johnson Controls
Goodrich Aerospace
+ many others
Pricing & Costs for Industrial Painting
We redo millions of square feet of painted and coated surfaces annually, which incurs the use of a large volume of supplies from our suppliers. Due to Induspray purchasing these products in large quantities, we're able to pass the savings on to our customers. While the cost of materials is usually a large expense to our customers (as it always is for any larger panting project), we are still able to offer top quality paints and coating systems thanks to our purchasing power, resulting in a greater value and thus lower overall project costs.
When researching industrial painting companies for a painting project in Canton, OH or Massillon, OH, you'll want to look at all options, including cost. An Induspray rep will be more than happy to provide assistance by carefully assessing your needs, and arranging a personal onsite meeting as necessary. We then follow up with specific professional recommendations, and an optimized price quote to best meet your job requirements. All this is completely free of charge and any obligation, so there is nothing to lose. We look forward to hearing from you soon, please contact us.
CANTON, OHIO / MASSILLON, OHIO SERVICE AREA
Induspray's local Canton, OH / Massillon, OH service area includes Greater Canton and Massillon themselves, plus nearby North Canton, East Canton, Louisville, and Perry Heights located in Stark County, Ohio.
"From the initial consultation, to the quotation, and to the post-job follow up, Induspray has proven to be an excellent painting company and we would definitely use them again. Keep up the fantastic work Andy and the same for your entire team of painters."
"We appreciate the like new ceilings and epoxied concrete floors that your painting team has provided in our manufacturing facility in Canton, OH. From the first job site walk-through, your attentiveness and responsiveness showed that we were working with an exceptional company. I look forward to working with you again in the future, thank you."
"The Induspray crew worked through nights and weekends to meet our tight production schedule. The job was completed in a professional matter and on time. All of the prep, painting, and clean-up was done with skilled workmanship and the highest quality materials and that best fit our budget. Yes, we recommend this company for painting in Massillon (or anywhere else in Ohio) for that matter."
Painters in Canton, Ohio / Massillon, Ohio
Canton, OH and nearby Massillon, OH are located roughly 60 miles south of Cleveland. They have a combined population of approximately 110,000 inhabitants. Well served by all forms of transport, in particular rail, they are home to many businesses and industries, including manufacturing companies and warehousing. The area is served by several industrial painting contractors.