Elkhart, Indiana Industrial Painting Contractors
If you have a factory, manufacturing plant, warehouse, commercial building or industrial building that needs a major cosmetic overhaul on the interior or exterior, you need to contact a specialized painting contractor like Induspray. We are a company that offers industrial painting services throughout the Elkhart, Indiana plus South Bend, Indiana region, and as a crew of skilled painting contractors, we are expert at what we do. Induspray has a team of painters who work safely and take on larger tasks head-on. Regardless of whether the facility needs exterior or interior painting or coating, Induspray can handle it. We focus on preparing buildings for painting, especially older, dirty, and contaminated facilities. We also specialize in spray painting of corrugated galvanized metal ceilings.
Industrial restoration and painting projects:
industrial buildings (our specialty)
chemical processing plants, refineries
steel structures, bridges, cranes
water & sewage treatment plants
secondary containment tanks
smoke stacks, high-heat stacks
factories, manufacturing plants
storage silos, storage tanks
machinery, manufacturing equipment
Commercial painting projects:
commercial buildings
arenas, entertainment venues
warehouses, storage facilities
underground parking garages
apartment/condominium buildings
Refinishing and painting all surfaces:
metal deck ceilings, ceilings
roofs, steel/metal roofs
window frames, flashing
walls, concrete & cinder block walls
structural steel, metal buildings
floors, epoxy floors, epoxy coatings
concrete floors, floor lines & markings
aluminum siding, metal/steel siding
PHOTO GALLERY

Painting Techniques & Surface Prep
Thorough surface preparation is imperative for a good paint job. If the surface is not solid and clean, it hinders the ability for the coatings or paint to adhere correctly to it. This could result in increased expenses to have it done all over again to correct any problems. Induspray always uses the proper techniques to prepare the surface so that it will work right the first time. The techniques Induspray might use during surface prep include: high pressure washing, cryogenic cleaning, hot water washing, degreasing, abrasive blasting, shotblasting, and others that have proven effective in the field.
Our crews of professional contract painters are highly trained in utilizing all the different methods of applying coatings such as airless spray painting, rolling and more. Each specific situation is carefully analyzed in order to choose the optimal painting technique for the best outcome. These professionals work in the Elkhart area and throughout Indiana in numerous industrial scenarios, which may include the coating or painting of exteriors that are high up or interiors that are hard to access. The painters also utilize various aerial work platforms and hoists to access all areas within these facilities and to complete site jobs properly and with safety in mind.
Industrial Coating & Paint Systems
High-performance coatings are utilized by Induspray and there is a large selection to choose from, with each calling for a unique type of application method. Induspray's painters also choose the selected coatings based on cost and the length of time for which it will hold up on the surfaces in question. Some products that we might use include: epoxies, dryfog paints, high-adhesion coatings, latex coatings, alkyd paints, enamels, environmentally-friendly coatings, polyurethanes, urethanes, and enhanced traction paints. Our experts pair up the type of paint or coating needed in order to make sure that the job is completed ideally and within budget. We also take into account the extreme climate and weather in Elkhart, South Bend, and within the state of Indiana when completing exterior projects and choosing materials.
VIDEO: INDUSTRIAL PAINTING DEMONSTRATION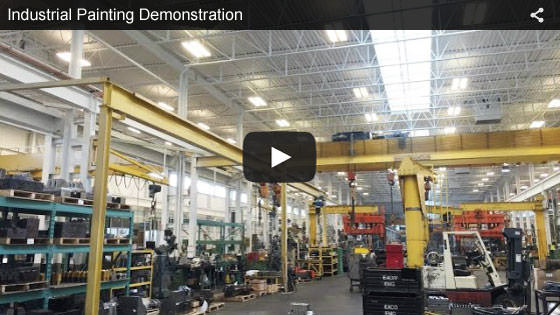 Industrial/Commercial Painters in Elkhart, Indiana
Induspray is a top-ranked commercial and industrial painting contractor companay, completing work on millions of square feet of surfaces on an annual basis across Indiana and the Midwest. Founded in 1975, we possess extensive industrial painting experience, and are highly capable of fulfilling the requirements of your painting project. We attribute our success to having efficient project directors, skilled painters, and a robust network of industry partners and suppliers. Induspray ensures every project is done right, on time, and within the projected budget.
Elkhart, Indiana Client List
Over time, we have achieved a respectable reputation in the industry, and attribute it to our to excellent work combined with reasonable pricing. The proof is in the consistently positive tone of our clients' feedback. We have completed previous painting projects throughout the Elkhart, Indiana and South Bend, Indiana areas with project sites including: manufacturing plants, factories, industrial facilities, warehouses, storage tanks, silos, commercial buildings, and more. We encourage you to look at our references. Our prior local and representative nearby client list includes:
General Electric
Johnson Controls
U.S. Steel
Imperial Oil
Goodrich Aerospace
+ many others
Industrial Painting Prices & Costs
Annually, Induspray paints over a million square feet of surfaces. This requires countless gallons of paint and large quantities of associated supplies. Because we buy direct and in such high volumes, we're able to drive down our costs on materials to as low as possible. The greatest expense in most painting projects revolves around supplies and materials, so this is best place to achieve any significant cost savings. We are able to do this in a significant way, and the bulk of these savings are passed on and reflected in our clients' projects, leading to a positive situation all around.
If you are seeking an industrial painting contractor in Elkhart or South Bend, Indiana, and would like to research the costs and options to best suit your project, we can help. Our associates will evaluate your project and talk with you about your needs, and arrange to visit your job site as needed. We will provide a written price and options estimate, plus expert guidance according to your project's specific needs, and all completely free of charge and obligation. We'd like to begin assisting you today, please contact us.
ELKHART, INDIANA SERVICE AREA
Our local Elkhart, IN and South Bend, IN service area includes Greater Elkhart and South Bend, plus nearby Goshen, Dunlap, Osceola, Bristol, Granger, Mishawaka and Midway located in Elkhart County, Indiana.
"Andy and his crew did an excellent job for us and performed in a professional manner. We thoroughly enjoyed working with all of them, and especially appreciated the excellent advice we were given pertaining to the choice of paint. The price difference versus the options presented by other painting companies were significant, resulting in large savings and kept us within our allotted refurb project budget. We could not be more satisfied. A highly recommended Elkhart, IN painting contractor from our perspective."
"Thank you for checking in with me. Everything looks good and we have moved all of our equipment back into place. I'm very happy with how everything went, and it was more painless than I had imagined. Please say hello to John for me, he was excellent."
"This is just a note of appreciation for the repainting work on our tank room ceiling. I cannot believe how effective the rust removal and cleaning treatments were. The new paint looks superb and we could not be happier with the results. Thank you."
Painters in Elkhart and South Bend, Indiana
Elkhart, IN is located east of Chicago and adjacent to South Bend, IN. Home to numerous industries and businesses, including manufacturers and warehousing operations, it boasts a modest population of approximately 52,000 inhabitants. The area is serviced by several commercial/industrial painting companies.