Industrial Painting Contractors in Erie, Pennsylvania
The industrial painting professionals at Induspray lead the way in commercial painting in Erie, Pennsylvania. Clients come first at Induspray, and our services include but are not limited to: large interior and exterior painting environments as well as warehouses and other large commercial and industrial buildings. The goal is to provide a long term paint job at the building or work site. This is why we include services to help to clean or paint areas that are dirty or dusty. Clients will notice a distinct crisp appearance provided by Induspray's industrial painting services. No job is too big for us, and we specialize in the spray painting of steel/metal deck ceilings.
Industrial painting and restoration projects:
large industrial buildings – all types
manufacturing plants, factories
silos, storage tanks
chemical processing plants, refineries
steel structures, bridges, cranes
water & sewage treatment plants
secondary containment tanks
smoke stacks, high-heat stacks
machinery, manufacturing equipment
Commercial painting projects:
large commercial buildings – all types
storage facilities, warehouses
arenas, entertainment venues
underground parking garages
apartment/condominium buildings
Painting and refinishing of all surfaces:
ceilings, metal deck ceilings
concrete & cinder block walls, walls
metal buildings, structural steel
concrete floors, floor lines & markings
aluminum siding, metal/steel siding
metal/steel roofs , roofs
window frames, flashing
epoxy floors, epoxy floor coatings
PHOTO GALLERY

Surface Preparation & Painting Techniques
At Induspray, we want your industrial painting project to last as long as possible. Our experience indicates that a solid, clean surface at the time of the application of paint ensures an optimal bonding surface for paint to apply to. Guesswork is taken out of the process by guaranteeing a clean well-adhering surface for the critical first coat of new paint. We believe in doing it right the first time. Creating a smooth, clean surface may be achieved by sandblasting, steam cleaning, power washing, micro abrasion, air blasting, and other techniques.
Our employees are trained in all forms of paint application methods, so we can quickly give you the results you need. Individual painting procedures are diligently decided upon to bring out the best results for your setting. Induspray's industrial painting contractors perform projects in Erie, PA. Induspray offers industrial painting services to nearly all industrial site types, including high and difficult-to-reach places. Competence in using lifts allows us to complete any area that is up high in your work site and safety is taken very seriously by our team and we always ensure that a job is well done.
Industrial Paint & Coating Systems
Induspray implements various state-of-the-art paint coatings appropriate for your objective and to maximize the value. The best painting practices will always be performed regardless of the scenario and we may use paints that are epoxies, latex, oil-based, non-slip coatings, high-adhesive, urethanes, polyurethanes, low emissions (low VOC), dryfall paints, rust-specific coatings, and more. Induspray guarantees the correct technique applied to your project for the best adhesion and overall cost effectiveness. Induspray completes exterior projects with proficiency, and we carefully consider the extreme weather conditions found in Erie and/or the state of Pennsylvania. In addition, Induspray will complete your industrial painting project with safety always in mind.
VIDEO: INDUSTRIAL PAINTING DEMONSTRATION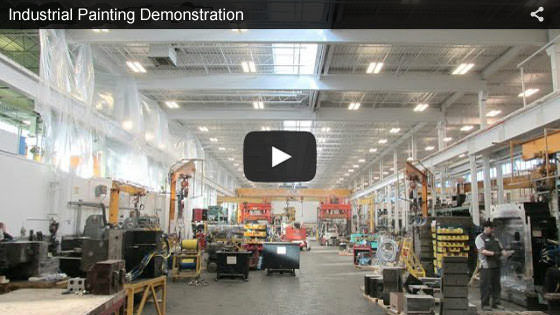 Erie, Pennsylvania Commercial Painters / Industrial Painters
Induspray is a top-ranked industrial and commercial painting contractor, completing work on millions of square feet of surfaces on an annual basis across Pennsylvania. Founded in 1975, we possess extensive industrial painting know-how, and are highly capable of fulfilling the requirements of your painting project. We attribute our success to having efficient project directors, proficient painters, and a strong network of partners and suppliers. Induspray ensures every project is done right, on time, and within budget.
List of Clients for Erie, Pennsylvania
Over time, we've achieved a respectable reputation in the industry, and attribute it to our to excellent work combined with reasonable pricing. The proof is in the consistently positive tone of our clients' feedback. We have completed previous painting projects throughout the Erie and/or Pennsylvania area including: manufacturing plants, heavy/light industrial facilities, warehouses, storage tanks, factories, silos,commercial buildings, and more. We encourage you to look at our references. Our prior local and/or representative client list includes:
General Electric
U.S. Steel
Imperial Oil
Goodrich Aerospace
Johnson Controls
+ many others
Industrial Painting Pricing & Costs
Induspray annually covers over a million square feet of surfaces. This requires countless gallons of paint and large quantities of associated supplies. Because we buy direct and in such high volumes, we're able to drive our costs on materials down as low as possible. The greatest expense in most painting projects involves the supplies and materials (especially paint), so this is best place to achieve any significant cost savings and we're able to do so in a big way. The bulk of these savings are passed on and reflected in the cost of our clients' projects, leading to a win-win situation all around.
If you're seeking an industrial painting contractor in Erie, PA, and would like to research the costs and options to best suit your project, we can help. Our associates will evaluate your project and talk with you about your needs, and arrange to visit your job site as needed. We will provide a written price and options estimate, plus expert recommendations specific to your needs, all completely free of charge and obligation. Please contact us, we'd be happy to begin assisting you today.
ERIE, PENNSYLVANIA SERVICE AREA
Our local Erie, PA service area includes Greater Erie plus nearby Ashtabula, Edinboro, Meadville, Conneaut and Fredonia located in Erie County, Pennsylvania.
"Having used Induspray on more than one occasion now, I can heartily attest to their top-notch painters, safe working methods, tight project management and reasonable pricing. They've always followed through on what was promised and we have never been disappointed. I would recommend them as a painting contractor to anyone in Erie or Pennsylvania"
"We truly appreciate the incredible epoxy floors your painting team has provided in our production area and warehouse. From the first job site walk-through, your attention to detail and responsiveness showed that we were working with a grade A company. I look forward to working with you again in the future."
"The refinishing work on our metal stamping line was excellent. The presses look nearly new now, much better that we had expected in fact. We will definitely keep you in mind for our next painting project."
Erie, Pennsylvania Commercial Painting Contractors
Erie, PA is located on the southern shore of Lake Erie northeast of Cleveland. It boasts a population of approximately 102,000 people and is home to a number of businesses including manufacturing companies and other industries. The area is served by several commercial/industrial painters.