Farmington Hills, Michigan Industrial Painting Contractors
If you have a factory, manufacturing plant, warehouse, or other commercial/industrial building that needs a major interior or exterior overhaul, you need to locate a specialized painting contractor capable of handling this type of job. Induspray is a company which offers industrial painting services throughout the Farmington Hills, Michigan area, and as a crew of skilled painting contractors, we are experts at what we do. Induspray has a team of painters who work safely and take on larger tasks head on. Regardless of whether the facility needs painting of the exterior or interior, Induspray can take care of it. We focus on carefully preparing buildings, and working on older and/or contaminated facilities are met as a challenge that we can conquer. We also specialize in the spray painting of galvanized metal deck ceilings.
Industrial painting and restoration projects:
industrial buildings (our specialty)
manufacturing facilities, plants, factories
machines, manufacturing equipment
storage silos, storage tanks
chemical processing plants, refineries
steel structures, bridges, cranes
water & sewage treatment plants
secondary containment tanks
smoke stacks, high-heat stacks
Commercial painting projects:
commercial buildings
arenas, entertainment venues
warehouses, storage facilities
underground parking garages
apartment/condominium buildings
Painting and refinishing of all surfaces:
ceilings, metal deck ceilings
metal buildings, structural steel, structures
roofs, steel/metal roofs
metal window frames, flashing
walls, concrete & cinder block walls
floors, epoxy floors, epoxy coatings
concrete floors, floor lines & markings
aluminum siding, metal/steel siding
PHOTO GALLERY

Painting Methods & Surface Preparation
What makes a paint job outstanding is the preparation that has been done on the underlying surface. If the surface is dirty or unstable, it will almost surely eventually end up as a failed mess. A failed paint job results in eventual additional costs that would go beyond a project budget, which is why we provide a quality job the first time. We find that there are effective methods available to clean surfaces and provide an ideal substrate for coatings and paints to properly adhere to. Induspray is an industrial painting contractor company that believes in making sure the surface preparation is completed correctly using numerous different techniques. Steam cleaning, sandblasting, pressure washing, dry-ice blasting, chemical cleaning, and other techniques are used by our professionals and chosen depending upon the need.
Our team of expert painters are knowledgeable in what techniques should be used to apply paint or coating, and this includes airless spray painting, something we specialize in. Every situation is carefully analyzed in order to choose the correct and most effective method for painting or coating a surface properly. Our painting contractor crew works throughout Farmington Hills and in Michigan in numerous industrial/commercial-type scenarios. We have the capability to handle painting jobs that include hard-to-reach spaces inside a building or exterior painting that has high areas. Utilizing aerial lifts safely, the Induspray painters can reach any surface to ensure it is properly painted or coated.
Industrial Paint & Coating Systems
Induspray utilizes a wide variety of coatings and paints, and each of these are top-notch. We focus on the exact application process, how long each product would last on a particular surface, and the overall cost for the customer. While each situation is unique, we commonly use oil-based or latex paints, enamels, high-adhesive coatings, polyurethanes, urethanes, rust-covering coatings, epoxies, low-emissions (low VOC coatings), no-slip coatings, and others depending on the situation. We always first conduct an analysis to make sure that the paint product or coating will match the needs for extended performance, as well as being budget-friendly. We also ensure to take proper care during exterior painting projects when conducting a job and choosing materials to suit the often extreme climatic conditions encountered in Farmington Hills, MI.
VIDEO: INDUSTRIAL PAINTING DEMONSTRATION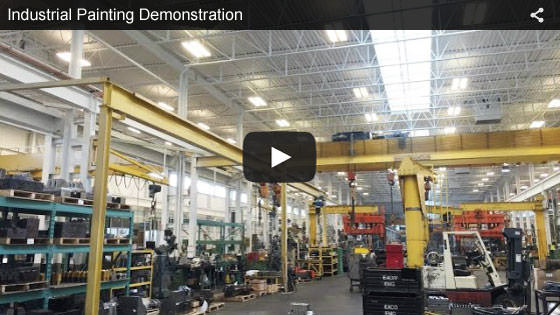 Commercial/Industrial Painters in Farmington Hills
Induspray is a top choice industrial paint contractor service available in the Farmington Hills, Michigan area. Over 40 years of experience gives us an edge over our competitors. There is no painting job too big for Induspray. Our trained associates and proficient job site directors, along with our industry suppliers, make up a powerful team that will deliver a completed project within your budget and timeline.
Farmington Hills, MI Client List
At Induspray, customer service satisfaction is a must. We allow our work to speak for itself. Induspray has a proven track record with various clients in the Farmington Hills and Michigan regions including working on industrial buildings, manufacturing plants, warehouses, factories, storage tanks, silos and others. Induspray would be glad to discuss our portfolio of previous clients as required. Some local and/or representative clients include:
U.S. Steel
General Electric
Johnson Controls
Imperial Oil
Goodrich Aerospace
+ many others
Industrial Painting Costs & Pricing
Large painting projects require equally large quantities of supplies. We purchase our supplies in bulk, so we're able to negotiate reduced supplier costs. Since painting supplies (mainly the paint itself) make up the majority of costs for most large painting projects, this grants us the ability to give you, our customer, a substantial price reduction.
Let us be your painting company of choice in Farmington Hills. If you're comparing painting companies by price and options, we'd like to hear from you. Our project manager will analyze your project based on your specific requirements, and schedule an on-location viewing if necessary. After this, we will contact you about our best cost appraisal and advise you on the best approach for your unique requirements. Our no-cost consultation and quote process gives you no reason to hesitate. Contact Induspray today to get started.
FARMINGTON HILLS, MICHIGAN SERVICE AREA
Our local Farmington Hills, MI service area includes Greater Farmington Hills plus Novi, West Bloomfield Township and Southfield, located in Oakland County in the state of Michigan.
"Induspray Inc. just finished sandblasting and epoxy painting our dock support beams, plus painting all of our exterior metal siding at our Farmington Hills, Michigan location. The project was finished in a timely and efficient manner. We are pleased to recommend them for their quality of work, professionalism and cost-effective pricing."
"Thanks for checking in with me. Yes, everything looks good and we've moved all of our equipment back into place. I'm very happy with how everything went, and it was much less disruptive than I had imagined. Please say hello to Johnathan for me (he was great to work with). Cheers."
"Regarding the recent painting of our factory, we are pleased to be able to recommend your firm (Induspray Painting) as a reputable industrial painting contractor. Ours was a large job with a myriad of details and different surfaces to deal with, but in the end, everything was handled correctly and expertly. We couldn't be more satisfied with the end result."
Farmington Hills, Michigan Industrial Painters
Located just northwest of Detroit, Farmington Hills, MI boasts a population of approximately 82,000 inhabitants. It is home to numerous businesses and industries, including a range of manufacturing companies. The area is serviced by several industrial painting companies.