Gary, Indiana Industrial Painting Contractors
If you have a manufacturing plant, factory, storage facility, warehouse, or commercial/industrial building that requires a cosmetic overhaul or restoration, you need to contact a specialized painting company able to provide that type of service. Induspray is an industrial painting contractor serving clients throughout the Gary, Indiana area. We have a complete team that can work safely and take on larger tasks confidently. Regardless of whether the facility needs repainting or coating on the exterior or interior, Induspray can easily handle it. We focus on preparing old and contaminated industrial buildings and other facilities for painting, and see all projects as a challenge to meet. We also specialize in spray painting large, corrugated galvanized metal ceilings.
Industrial painting and restoration projects:
manufacturing plants, factories
industrial buildings – all types
water & sewage treatment plants
silos, storage tanks
chemical processing plants, refineries
bridges, cranes, steel structures
secondary containment tanks
high-heat stacks, smoke stacks, incinerators
manufacturing equipment, machines
Commercial painting projects:
commercial buildings – all types
arenas, entertainment venues
warehouses, storage facilities
apartment/condominium buildings
Painting and refinishing of all surfaces:
aluminum siding, metal/steel siding
walls, concrete & cinder block walls
metal buildings, structural steel, structures
epoxy floors, epoxy floor coatings
metal deck ceilings , ceilings
roofs, metal/steel roofs
flashing , metal window frames
PHOTO GALLERY

Painting Techniques & Surface Preparation
Induspray commercial painting knows that probably the most important aspect of a painting project is the surface adhesion. In order to ensure that we meet the industry's best practices, a solid, clean, smooth surface must make up the base before applying any paint or coatings. After all, your final painting result should not have to be corrected and redone later on. When the job is done right the first time, it prevents the cost of having to redo the project before its normal life expectancy. The original surface will be the best surface possible for paint coating adhesion, and a solid paint finish starts at the surface. Our experienced contractors realize this and use the following methods to ensure a quality job: steam cleaning, power or pressure washing, sandblasting (sand blasting), micro abrasion, chemical cleaning, ice blasting, shot blasting, and more.
Several skills are used by our employees to coat your project's surface with paint. Techniques used by our painters include airless spray painting, invaluable on most jobs. We guarantee the best bond for your surface and minimize corrective costs that would otherwise upset your project budget. Every project is individually analyzed to determine the correct and optimum application procedures. Let our reputable contractors in Gary, Indiana serve you for all your industrial/commercial painting needs. Painting most exteriors that are higher up is also included in our services. Our employees are trained to use lifts and hoists, granting safe and free access to hard-to-reach places. Because we are licensed, you will have peace of mind knowing that your project will be completed properly, promptly and safely.
Industrial Paint & Coating Systems
A wide variety of coatings are available to us in our paint and coating arsenal. Usually though, there is only one that's the best for your specific project environment and budget. Induspray provides high rates of customer satisfaction by minimizing expenses, lengthening the life of your paint coating, and using only the best solution for your work site. Directly appropriate to the site which needs to be refinished, correct coating options may include oil-based or latex paints, urethanes, polyurethanes, epoxies, enamels, low emissions (low VOC) coatings, high-adhesion coatings, dryfall paints, non-slip coatings, and others. Only the best will do at Induspray because we correctly match the coating to be used according to the type of surface. We pay attention to the weather and climactic conditions in or near Gary, IN that could affect the success of the project.
VIDEO: INDUSTRIAL PAINTING DEMONSTRATION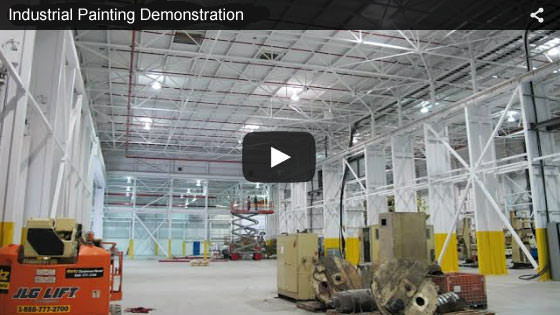 Industrial Painters / Commercial Painters in Gary, IN
Induspray is often considered to be the best industrial paint contractor company that serves the Gary, Indiana area. Being in business since 1975 gives us exceptional experience, and thus an edge over our competitors. There is no painting job too big for Induspray to handle. Skilled and well trained painters and proficient job site directors, plus key suppliers and colleagues, make up a strong team well capable of delivering a completed project within your budget and timeline.
Client List for Gary, Indiana
At Induspray, excellent customer service and satisfaction is a must. We allow our work to speak for itself. Induspray has a proven track record with various clients in the Gary area plus across Indiana, including working on industrial buildings, warehouses, factories, manufacturing plants, silos, storage tanks, and others. We would be glad to discuss our portfolio of previous clients as required. Local and/or representative clients include:
U.S. Steel
Imperial Oil
Goodrich Aerospace
General Electric
Johnson Controls
+ many others
Industrial Painting Prices & Costing
Large painting projects require equally large amounts of supplies. We maintain excellent relationships with our suppliers, and since we purchase supplies in bulk, are able to work out reduced costs with them. Since painting supplies usually make up the majority of costs for any painting project, this gives us the ability to give you a substantial price reduction.
Let Induspray be your painting company choice in Gary or elsewhere in Indiana. If you are comparing painting companies by price and painting options, we'd definitely like to hear from you. Our rep will analyze your project based upon your unique requirements, and schedule an on-location viewing if needed. After this, we will provide you with a cost appraisal and advise you on the best approach for your unique requirements. Our no-charge, no-obligation consultation and quote process gives you no reason to hesitate. Contact us today, we look forward to hearing from you.
GARY, INDIANA SERVICE AREA
Our local Gary, IN service area includes Greater Gary plus nearby Hammond, Merrillville, Hobart, Crown Point, Highland, Lake Station Portage and Calumet City located in Lake County, Indiana.
"Our company contracted with Induspray Inc. to prepare and repaint our large outdoor storage silos. The work was performed very well and we are highly satisfied with the end product. The cost was also the lowest of all the quotes we obtained."
"It's nice to see a painting contractor that actually shows up on time. From our initial phone consultation to your site visit here in Gary, Indiana, I felt that you not only knew exactly what you were talking about, but also cared about our needs and getting the job done according to schedule. That's exactly what happened, and you delivered on all counts."
"From the initial assessment and estimate to follow-up call, Induspray is a superb painting company and we look forward to using them again. Keep up the fantastic work guys!"
Industrial Painters in Gary, Indiana
Gary, IN is located just east of Chicago on the southern tip of Lake Michigan. With a population of approximately 81,000, Gary is home to various businesses and industries, including manufacturing companies, warehouses, and more. The area is served by several industrial/commercial painting companies.