Grand Rapids, Michigan Industrial Painting Company
The painting professionals at Induspray lead the way in providing expert industrial painting services in Grand Rapids, Michigan. Our services include the painting of large interior and exterior painting environments, warehouses, and other commercial buildings. The goal is to provide a long-term paint job solution at the building or project site. This is why we include specialty services to help to clean or paint areas that are dirty or contaminated. Clients will notice a "like new" appearance that is provided by Induspray's industrial painting services. We are specialists in spray painting of large metal deck ceilings.
Industrial restoration and painting projects:
industrial buildings & facilities
steel structures, bridges, cranes
water & sewage treatment plants
secondary containment tanks
manufacturing plants, factories
silos, storage tanks
smoke stacks, high-heat stacks
machinery, manufacturing equipment
chemical processing plants, refineries
Commercial painting projects:
commercial buildings
storage facilities, warehouses
arenas, entertainment venues
apartment/condominium buildings
Refinishing and repainting of all surfaces:
ceilings, metal deck ceilings
aluminum siding, metal/steel siding
concrete & cinder block walls, walls
metal/steel roofs , roofs
window frames, flashing
metal buildings, structural steel
concrete floors
epoxy floors, epoxy floor coatings
PHOTO GALLERY

Painting Methods & Surface Prep
When completing a painting job, it will only turn out properly when the surface underneath it all has been properly prepared. If there isn't a nice clean, solid surface for coatings or paint to attach to, it will likely fail, and correcting it could be extremely difficult and expensive. Have it done correctly the first time around with Induspray. The correct preparation of surfaces is what makes Induspray a leader in industrial painting because if not done properly the first time, it will never look right. There are numerous methods that surfaces can be prepared with. We utilize techniques such as high-pressure washing, detergent cleaning, hot water washing, dry ice blasting, shot blasting, and more.
Induspray's painters are skilled and well-trained in all different types of techniques to apply coatings, including high-volume airless spray painting. Each scenario requires specific painting techniques. Rather than just slapping on a coat of paint, Induspray's painters carefully choose which method should be utilized for the best outcome. We employ skilled contractors who specialize in industrial painting. We ensure that all work completed in Grand Rapids is done so effectively, and we work on hard-to-reach interior spots and also exterior areas that are high to reach. By utilizing scissor lifts, booms and hoists, our painting team can reach any location within your facility, and we always focus on completing the task properly and safely.
Industrial Paint & Coating Systems
There are a wide variety of exceptional coatings that we use regularly at Induspray. We determine the best solution based on where it needs to be applied, the consideration of the budget, since we always want to make sure that it will last a long time. Since each scenario is different, some of the paints or coatings we most often use include polyurethanes, high-adhesion coatings, urethanes, alkyd paints, acrylic latex paints, high-adhesive coating, green coatings, dryfall coatings, rust-inhibiting coatings, and slip-resistant coatings. We plan ahead so that we utilize the type of paint or coating that will provide the best outcome, while still being cost-effective for clients. In circumstances where there are exterior tasks to complete, Induspray takes great care when inclement weather is a possibility, and we use materials that can properly survive Grand Rapids' often harsh climate.
VIDEO: INDUSTRIAL PAINTING DEMONSTRATION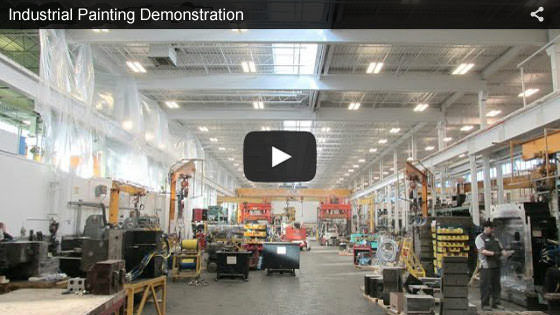 Grand Rapids Commercial Painters / Industrial Painters
If you're looking for the top commercial or industrial paint contractors in Grand Rapids, MI, look no further than Induspray. Since 1975, we've accumulated a tremendous amount of experience that other industrial painters have not, and in a wide range of different scenarios. Strong partnerships with suppliers and industry partners, skilled crews of expert painters, and well organized project managers come together to ensure that every project we take on is done right the first time, safely, and within the project timing.
Client List for Grand Rapids, Michigan
We have numerous local references that we can provide who have been pleased with our excellent work and great-value pricing. Within Grand Rapids and at other locations nearby, Induspray has completed commercial and industrial painting projects including warehouses, factories, manufacturing plants, commercial and industrial buildings. A list of our local and/or representative clients include:
General Electric
Johnson Controls
U.S. Steel
Imperial Oil
Goodrich Aerospace
+ many others
Pricing & Costs for Industrial Painting Services
On an annual basis, we use vast quantities of paint, coatings, and other supplies while refinishing millions of square feet of surfaces on our various projects. Purchasing this paint and supplies on a high-volume basis allows us to obtain heavily discounted prices from vendors. Since supplies (mainly paint) usually represent a significant portion of industrial paint job costs, we're able to pass these savings on to our clients who have entrusted us with their business.
If you have painting needs in Grand Rapids or in Michigan that Induspray can help you with, we hope that you'll consider us. Upon reviewing and analyzing your requirements, we will provide the estimated costs and options available to you for your painting project, along with valuable expert advice. A rep from Induspray can come in person to your project site in order to make a more in-depth recommendation, if that is required. These services are always free, and you are never under any obligation. Induspray looks forward to hearing from you and working with you to achieve your painting goals.
GRAND RAPIDS, MICHIGAN SERVICE AREA
Our local Grand Rapids, MI service area includes Greater Grand Rapids, plus nearby Wyoming, Walker, and Kentwood located in Kent County, Michigan.
"The Induspray crew worked through nights and weekends to meet our tight production schedule. The job was finished in a professional matter and right on time. All the prep, painting, and cleanup was done with skilled workers and quality materials. We absolutely recommend this painting contractor company for other jobs."
"Very professional, timely and polite. We're very happy with the extra care given to surface cleaning and preparation, and it really shows in the end result. The new paint job makes such a big difference in the appearance of our entire factory. Thank you, it was well worth it."
"I would be delighted to recommend your firm to anyone looking for a painting company in Grand Rapids. Your efforts at our facility were top notch and the finished job leaves no room for improvement. The work proceeded on schedule and was always conducted in a safe manner. The working area was always left clean and organized so we were able to continue with our normal production with little interference, as was promised. Overall, we're extremely pleased and thank you for a job well done."
Grand Rapids, Michigan Industrial Painters
Grand Rapids is located in western Michigan. The population of the Grand Rapids metropolitan area is approximately 1 million inhabitants. It is home to many types of businesses and industries, including manufacturing firms, light/heavy industries, and warehousing facilities. The area is served by several painting companies.