Indianapolis, Indiana Industrial Painting Contractors
With painting services offered in the Indianapolis, Indiana region, Induspray is a company that specializes in large-scale commercial and industrial painting. We are a professional painting contractor company that uses experienced crews that focus on the restoration, painting, and cleaning of older commercial and industrial building spaces. Our services have given a facelift to the interior and exteriors of countless factories, manufacturing plants, commercial buildings, industrial buildings and warehouses. We pride ourselves in taking on the larger projects, and take restoring older worn out and unsound facilities as a challenge. The dirtier, greasier, and more worn out, the better for us. We also offer expert spray painting of fluted metal deck ceilings.
Industrial painting and restoration projects:
industrial buildings – all types & sizes
factories , manufacturing plants
secondary containment tanks
smoke stacks, high-heat stacks
silos, storage tanks
machinery, manufacturing equipment
refineries, chemical processing plants
steel structures, bridges, cranes
water & sewage treatment plants
Commercial painting projects:
commercial buildings – all types & sizes
arenas, entertainment venues
storage facilities, warehouses
apartment/condo buildings
underground parking garages
Painting and refinishing of all surfaces:
ceilings, metal deck ceilings
concrete floors, floor lines & markings
aluminum siding, metal/steel siding
metal roofs, steel roofs
walls, concrete & cinder block walls
metal buildings, structural steel
epoxy floor coatings , epoxy floors
metal window frames, flashing
PHOTO GALLERY

Painting Techniques & Surface Preparation
When completing a commercial or industrial painting project, the final results will only be good when the underlying surface is properly prepared so that the coating/paint will effectively adhere to and cover the surface. It's important to have a solid surface that has been prepared with cleanliness in mind. If the surface is not well prepared, ultimately the job will fail and the results will not be as expected, usually leading to higher costs down the road in order to have it redone correctly. Induspray takes great care to make sure that it's done right the first time, and uses numerous methods in different situations in order to perform the surface preparation in order to get ready to coat the surface. Some of the techniques that we use to properly clean the surfaces include: sand blasting, high pressure washing, hot water washing, abrasion, cryogenic cleaning, metal bead blasting, aggregate blasting, solvent cleaning, and others.
Induspray's team of expert industrial painting contractors are skilled and trained in utilizing multiple methods of applying coatings and paint, including industrial airless spraypainting. When choosing the techniques to use for each situation, we consider things carefully so as to end up with the optimal result. Induspray crews work in a variety of industrial situations all throughout Indianapolis, IN and have the ability to reach hard-to-access interior and exterior target points. We utilize scissor lifts and mechanized booms in order to reach particularly hard to get to spots, and do it with great care so it is done correctly and safely.
Industrial Paint & Coating Systems
There are a wide variety of paints and coating systems that we use in our projects, and we make sure they are all high-performing. We always keep in mind the customer's budget, the application area specific to each project, and the required longevity of the coating. Taking each unique situation in mind, some of the coating options we use include: oil based paints, enamels, urethanes, polyurethanes, epoxies, green paints, high-adhesion coatings, enhanced traction paints, corrosion inhibiting coatings, quick dry coatings, and acrylic latex paints. To maximize the performance of the coating and help customers get the best price, we consider each technique and coating system carefully. While working in Indianapolis (Indy) or elsewhere in Indiana, we carefully take into account the harsh local weather conditions when planning and executing exterior jobs.
VIDEO: INDUSTRIAL PAINTING DEMONSTRATION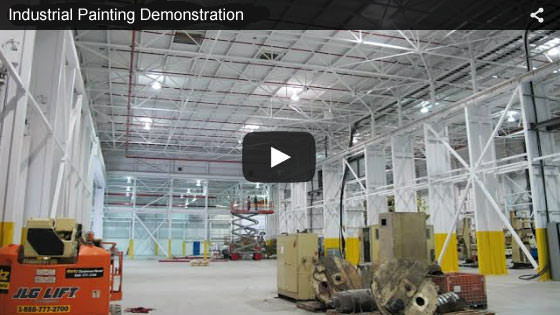 Commercial Painters / Industrial Painters in Indianapolis, IN
If you're looking for a commercial or industrial paint contractor in Indianapolis, Indiana, look no further than Induspray. Since 1975, we've accumulated a tremendous amount of experience in a wide variety of different scenarios. Strong partnerships with suppliers and partners in the industry, crews of skilled painters, and efficient project managers all combine to ensure that every project we take on is done right the first time, safely, and within the estimated time frame.
Indianapolis, Indiana Client List
We have numerous local references that we can provide who have been pleased with our excellent work and great-value pricing. Within the Indianapolis area, Induspray has completed a number of industrial and commercial painting projects including warehouses, factories, manufacturing plants, commercial and industrial buildings, storage silos and tanks, plus more. A list of our local and/or representative clients includes:
U.S. Steel
Goodrich Aerospace
Imperial Oil
Johnson Controls
General Electric
+ many others
Industrial Painting Costing & Prices
Annually, we use large quantities of paint, coatings, and other supplies while refinishing millions of square feet of surfaces on our painting projects. Purchasing this paint and supplies on a high-volume basis allows us to obtain heavily discounted prices from vendors. Since supplies usually represent a significant portion of job costs, we're able to pass these significant savings on to the clients who have entrusted us with their business.
If you have painting needs in Indianapolis that Induspray can help you with, we hope that you'll consider us. Upon reviewing and analyzing your requirements, we will provide the estimated costs and options available to you for your painting project, along with our valuable expert advice. A representative from Induspray can even come in person to your project site in order to make a more in-depth recommendation, if required. These services are always free, and you are under no obligation. Induspray looks forward to working with you to achieve your painting goals. Contact us today.
INDIANAPOLIS, INDIANA SERVICE AREA
Our local Indianapolis, IN service area includes Greater Indiana, plus nearby Carmel, Noblesville, Zionsville, Avon, Plainfield, Fishers, Southport, Broad Ripple, Speedway, Beech Grove and Greenwood located in the Regional Municipality of Marion County, Indiana.
"After a long search for an Indianapolis painting company, we chose Induspray because they seemed to have the best combination of experience, reputation, and low pricing. They were priced about 20% lower than the next competitor's quote, and we're completely satisfied with the work. Would use them again if we ever need more painting done."
"Induspray Inc. just finished sandblasting and epoxy painting our loading dock support beams, plus painting all of our steell siding. The project was finished in a timely and efficient manner. We are pleased to recommend them for their quality of work, professionalism and cost-effective pricing."
"I'm definitely impressed by your recent work painting our warehouse location. Everything about the job went smoothly, and we are highly pleased with the end result. Not only is our facility cleaner and brighter, but it makes it brighter and safer."
Painters in Indianapolis, Indiana
Indianapolis, IN (Indy) is located in the geographic center of the state of Indiana. The greater metropolitan area of Indianapolis has a diverse population of approximately 2 million inhabitants, and is home to a wide range of industries and businesses, including manufacturing, warehousing and more. The area is serviced by several industrial painters.